Hi, my name is Wendy Olinyk, VP Finance & Administration for Harvest Energy Solutions. My husband, Mark and I own two solar systems and are looking to install our third. And believe me, it is much simpler than you think. Utility Companies are required to allow it, more and more people are installing systems in the Midwest, costs have come down significantly and it is no longer just for the "big guys".

Solar is truly for everyone.

Our two systems are quite different and the third will be no exception. The first being on our farm in Grass Lake, Michigan offsetting our energy bill for our home and small farmstead, the second located at our 280,000 square foot industrial building in Jackson, Michigan where we manufacture solar racking, telecommunications equipment and other components and our third is an investment opportunity where a local utility is offering a program where they purchase all energy produced.
Our "residential" system was installed 4 years ago, a 20kW Solar Array, produces enough for our annual usage which has eliminated our energy bill entirely, while our "commercial" system, a 150kW Solar Array installed 2 years ago, produces about 1/7 of what is needed annually. We wanted a larger commercial system but were limited to 150kW by Consumers Energy. Even though it is smaller than needed, we are thrilled with the results and hope to put in more as utility companies have and will continue to change their policies. Our "investment" system will be much larger in scale, installed later this year and is part of our retirement plan as it will pay out for 20 years.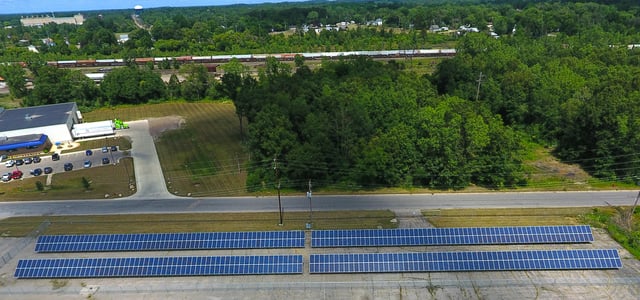 In addition to our three systems, five of our employees have installed systems for their own homes or as an investment as well. And many more are signing up. Seeing is believing and our employees are a true testament to the power of solar.

Whether you are interested in a small home or residential system, a medium size farm/commercial system or a large investment system, Harvest will help determine what works best for you and your family. Just as our personal situation varies based on our need for "residential", "commercial" and "investment" systems, yours will as well. We help with all the details from contacting your utility company, checking with your township to providing a detailed proposal – Harvest will provide a solar solution specifically designed for you.

Mark and I have a personal goal to become energy independent and we are well on our way. We want to help you too. Pick up the phone and call (877) 788-0220, email getsolar@harvestenergysolutions.com or click here to Get Your Free Solar Energy Quote and let us help you take the first step. It's easier than you think.