In today's technology driven world, information is at our fingertips in an instant and communication is faster and easier than ever. But nothing can quite replace a face-to-face interaction. Here at Harvest, we love to be able to talk with you all through our social media, emails, and phone conversations, but trade shows are still an important part of our process.
Exhibiting at trade shows allows us to meet you and have an in-depth conversation about how solar can benefit you and the environment. Being able to meet us at a trade show allows you to get a feel for the company culture and give us feedback on what products or services you are looking for. Our solar experts are on hand to help you learn how you can offset your utility electrical costs and with in-house designers, engineers, installers, licensed electrician and solar technicians they can walk you through the entire process start to finish.
We would love to see you at the show here are a few tips to maximize your visit:

1. Check us out online, read about our experts, and let us know you are coming. We post on social media what our booth number is for the upcoming show since trade shows can sometimes be chaotic once you get into the crowd. Comment on the post and lets us know you will be there or give us a call.

2. Plan your time. Many shows will post a floor map online or grab one when you get to the show. Figure out what booths you want to visit and write down the questions you want to ask.

3. Allow yourself enough time. Check what presentations are happening and how long they are. If they are beneficial to your visit, make sure you give yourself enough time to visit your intended booths and learn from the events. After all, trade shows are supposed to be fun and informational.
We look forward to seeing you at our next event! Below are a few of our upcoming shows and we hope to see you there. Sign up for our email list to get the most up-to-date information on each show and check out our Facebook page for more solar news.

Scarlet, Gray & Green Fair Registration
4/26/2018
OSU Wooster Campus
1328 Dover Rd.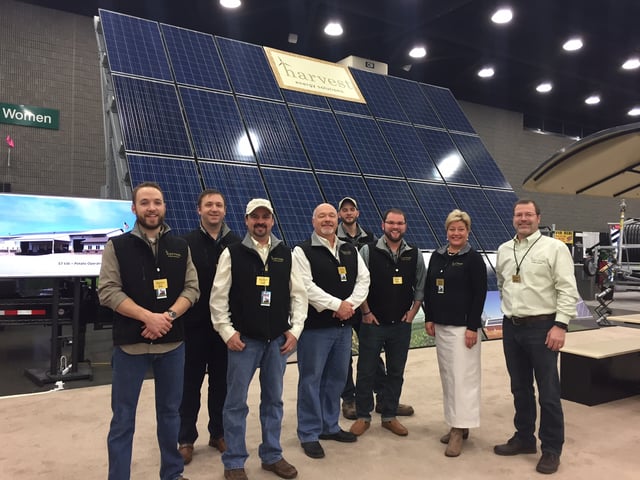 Wooster, OH 44691

Cultivate '18
7/14 - 17, 2018
Greater Columbus Convention Center
400 N High St.
Columbus, OH 43215

Monroe County Fair
7/29 – 8/4, 2018
3775 S. Custer Road
Monroe, MI 48161

AgroExpo
8/14 – 8/15, 2018
5605 N. Findlay Rd.
St. John, MI

Fulton County Fair
8/31 - 9/6, 2018
8514 OH-108
Wauseon, OH 43567

Farm Science Review
9/18 – 20, 2018
135 State Route 38 Northeast
London, OH 43140
Can't make it to a show? Click here for a free site assessment and our solar expert will come to you. Give us a call at 877-788-0220.